QCL Development
The development of the quantum cascade laser took place over a number of years, drawing on work performed over the course of more than two decades. The NDR electronic transport characteristic for a superlattice was first proposed by Esaki and Tsu in 1970*. This formed the backbone for the proposal by Kazarinov and Suris who formulated the quantum cascade principle over the following three years*,*,*. They described in detail the possibility of coherent emission by photon-assisted tunnelling, utilising intersubband transitions within a superlattice semiconductor. One year later in 1974, Esaki and Chang demonstrated resonant tunnelling and the associated negative differential resistance in a superlattice*. This was made possible by the advent of Molecular Beam Epitaxy (MBE), enabling the production of high quality multi-layer crystalline structures*. Largely developed by Cho et al. the technology was brought to maturity over the following decade*. 1974 also saw energy quantisation within a quantum well experimentally proven by optical absorption*. The first electroluminescence was demonstrated from a GaAs/AlGaAs superlattice consisting of 60 periods of identical well/barrier pairs in 1989*. Radiative transitions took place intrawell, between adjacent subbands, resulting in low energy photon output and notable NDR. The work brought together many important principles and pointed the way to future cascade development.
Mid Infrared Cascades
1994 saw the demonstration of the first quantum cascade laser by Faist et al. at Bell laboratories*. The design is shown in Figure 1 and comprised 25 GaInAs/AlInAs periods lattice matched to an InP substrate. The radiative transition takes place via a photon-assisted process in a three quantum well active region, between levels 3 and 2. Level 2 is coupled by phonon scattering to level 1 to give rapid depopulation. Each active region is separated by a doped superlattice injector/collector in order to prevent electric field domain formation, thus maintaining electric field uniformity across the structure. The device lased in pulsed mode at 4.2 μm, producing up to 10 mW at 10 K with lasing sustained up to around 90 K.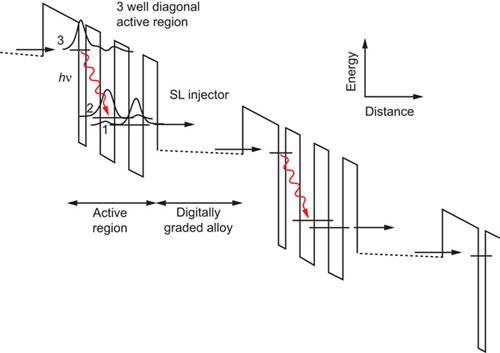 Further work by Faist and colleagues produced the first continuous wave QCL in 1995ref followed by the first device capable of lasing at room temperature a year later*. The designs of both were quite similar, using an intrawell (vertical) radiative transition formed by two and three quantum wells in each case respectively. The three well design is shown in Figure 2. Such a transition is less susceptible to interface roughness scattering and growth variation, therefore giving a sharper gain spectrum. The dipole matrix element for the transition is also enhanced from a larger wavefunction overlap. The addition of the third thin well next to the injection barrier is significant. It serves to increase injection efficiency into a more tightly confined upper state (1), whilst suppressing leakage from the injector into the ground level (2 and 3). Depopulation is again through a pair of phonon coupled states. The funnel shaped miniband injector also serves to limit thermal backfilling of carriers. A further improvement in the same vein came in 2002 with the room temperature CW QCL, this time using a four well active region and a double phonon resonance. The device performed well, lasing at 9.1 μm with 17 mW output power*.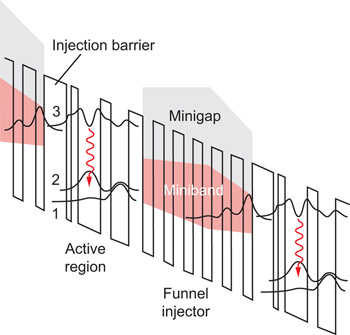 An alternative band structure was demonstrated in 1997 by a team also including Faist. The structure was the first laser with a superlattice (SL) active region where the radiative transition occurs between minibands, across a minigap, Figure 3ref. The design had a number of advantages over earlier band structures. The wide miniband energy facilitates higher power operation by allowing larger current flows, as well as a larger dipole matrix element for the radiative transition. Population inversion is also easier to obtain since most scattering will be intra-miniband in the first instance, which has only a small effect on transport. There is also no requirement to engineer phonon coupled states, simplifying active region design. The device gave high output powers, ranging from 800 mW at 50 K to 200 mW at 200 K, but was limited to pulsed operation and had a large threshold current. These limitations were for the most part a result of doping in the structure, required to maintain electric field uniformity and flat minibands. Whilst useful, doping contributes to losses by increasing impurity scattering and free carrier absorption. Successive attempts were made at removing doping from the structure, down to doping just a few layers in the injector miniband*. However, Tredicucci et al. provided a design offering a flat miniband profile without doping by modifying the active region layers, "chirping" the superlattice with wells of decreasing width and slight increases in barrier thickness*. At zero bias the chirped superlattice QCL forms an ascending series of localised subbands which align to form a flat miniband when biased. The design gave a pulsed room temperature peak lasing power of 500 mW with continuous wave operation possible up to around 150 K. The threshold was reduced by almost six times at cryogenic temperatures.
In the superlattice QCL design, selective injection into the upper state is poor due to the large width of the miniband, although the same principle provides good extraction. Conversely, the multiple quantum well active region exhibits good injection selectivity into a single delocalised subband, but the phonon depopulation provides a bottle neck for carrier extraction. Faist et al. addressed these issues in 2001 with a design that brought together the advantages of both types of active region*. A schematic of the band structure is shown in Figure 4. The upper state is engineered to be a single delocalised subband that resides in the minigap, thus providing highly selective injection. The superlattice injector is maintained, but transport is improved as it now extends across the whole active region. This "bound-to-continuum" design has given the highest performance QCLs to date, yielding devices that lase in the mid-infrared with output powers up to almost 0.5 W, continuous wave and at room temperature*.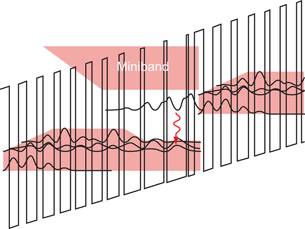 Far Infrared Cascades
The significant difference between operation in the mid- and far-infrared is the low photon energy, with radiative transitions taking place below the 36  meV phonon energy of GaAs. Scattering rates and therefore lifetimes are therefore largely dictated by elastic scattering processes such as carrier-carrier, impurity and interface roughness. There is also competition with thermal energy, kT, and enhanced free carrier absorption from its λ2 dependence. Although earlier work had demonstrated broad, spectrally weak terahertz emission, it was Rochat et al. who were credited with the first far-infrared (88 μm wavelength) quantum cascade emitter in 1998*. Following this, 2002 saw the first terahertz QCL from Köhler et al. with an active region that had a very similar design to that of the emitterref. The QCL band structure, based on the bound-to-continuum scheme, is shown in Figure 5. A chirped superlattice injector funnels carriers to state 2 at the base of the active region upper miniband. The radiative transition then occurs to state 1 at the top of the lower miniband, with rapid depopulation directly into the next injector miniband. The device lased at 67 μm up to 50 K in pulsed mode and gave output powers of more than 2 mW at 8 K. Where previous attempts at such long wavelength lasing had failed, the major breakthrough in this particular device was waveguiding. Due to the size of the far-infrared mode, a single surface plasmon layer (as employed in mid-infrared devices), does not provide adequate overlap of the optical mode with the active region. Whilst a near metallic doped substrate gives good confinement, it impedes lasing by its high loss. The solution implemented by Köhler et al. was the introduction of a thin doped layer between the active region and a semi-insulating substrate, Figure 6. This resulted in good confinement with mode leakage to the substrate contributing little to waveguide losses and highlighted the importance in considering waveguiding as well as band structure in designing far-infrared QCLs. Until recently, bound-to-continuum QCLs had produced the highest CW powers, up to 50 mW* and lowest threshold current densities, around 100 A/cm*. Operating temperatures were however limited to around 100 K. Again, this progress was aided by the consideration of waveguiding with the implementation of the double metal waveguide. Proven in the mid-infrared, the superlattice stack is sandwiched between metal layers to produce almost 100 % optical confinement in the growth direction*,*.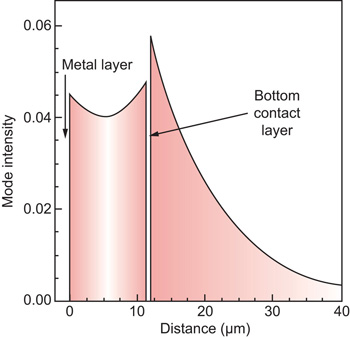 In 2003, as a bid to extend the operating temperature, Williams et al. returned to the temperature invariant longitudinal optical phonon as a depopulation mechanism*. Much like the earliest mid-infrared QCLs it incorporated a vertical bound-to-bound radiative transition with a four quantum well active region. Although performance was initially poor, developments in the design lead to record high temperature operation at 167 K pulsed and 117 K CW*. However, threshold currents were high and output powers were less than 3 mW. Using a similar design, three years later the same group at MIT produced the highest power far-infrared QCL. At a wavelength of 68 μm*, powers of 248 mW in pulsed mode and 138 mW in continuous-wave were demonstrated. Unfortunately high-power and high-temperature operation proved mutually exclusive, and the device was limited to operation at cryogenic temperatures.
Further notable designs include the interlaced photon-phonon cascade by Köhler et al. the following year*. The structure consisted of alternating photon and phonon emitting stages, bridged by appropriate minibands. The motivation for this design was the reduction in threshold by improving transport through the provision of a more explicit injector, whilst retaining the advantage of phonon depopulation. Scalari et al. proposed a similar design, but based on a bound-to-continuum transition with the lower miniband coupled to the upper bound state by phonon scattering*. Such a scheme facilitates population inversion by increasing the rate of population of the upper state by rapid phonon scattering. Offering output powers less than 10 mW with no temperature advantage, both works failed to improve upon previous bound-to-continuum QCL designs.
Besides the progress toward high-temperature and high-power operation there is also a trend towards longer wavelength lasing. Such an advance provides an increase in the range of possible spectroscopic measurements, and since many materials become increasingly transparent at longer wavelengths, this could prove beneficial in the development of imaging systems. The longest wavelength achieved to date is 161 μm, although output powers are sub-milliwatt*. A significantly higher performing device has been demonstrated by Worrall et al., lasing at a marginally shorter wavelength of 150 μm. The device exhibited a threshold current density of 115 A cm-1 (28 A cm-1 lower than the 161 μm device) with peak output powers of 50 mW in pulsed mode and 17 mW in CW*.